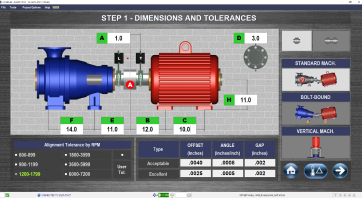 Innovative, Intuitive, Flexible, and Powerful…
In any alignment system, the hardware is only half the story. The software is the other, more important half, because it is the software that you use 95% of the time. So we designed our Shaft Series to be so simple to use that it requires little to no training. Couple6 Software for tablets was written with the novice user in mind with high quality, color screens that lead you through each stage of the alignment, so don't need to constantly refer to "cheat sheets" just to remember how to use it!
Powered by Windows®, Couple6 Runs on Powerful, Rugged Tablets…
Couple6 software is a powerful shaft alignment program designed to run on any WinXP/7/8/10 tablet or laptop PC that has a Bluetooth™ connection. It has large, color screens with easy-to-see data displays.  Since Couple6 runs on Windows® tablets, you can utilize the power of the tablet to email reports from the field, run other reliability software and many other Windows based program.   This also makes it easy to find a replacement if something happens to the tablet.
Easy-Guide™ Software Navigation Makes Everyone a Genius…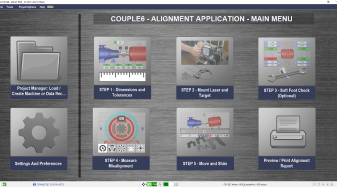 Our Couple6 software is every bit as brilliant as our hardware, featuring our Easy-Guide™ navigation with its easy-to-follow, high-quality color screens that makes even the novice user look like an expert! Just follow our 5-step process that guides you through each stage of the alignment and before you know it, you'll be printing a report!
Couple6 allows the user to flip the motor graphics to match the pump/motor orientation without having to turn the display upside down!   You can flip the machine orientation in 4 of the 5 alignment steps in Couple6 and the machines will be flipped in all the other steps.  Just click on the icon and Flip-It™!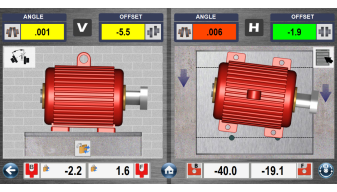 Duo-Plane™ Live Move Screen for Faster, Easier Alignments …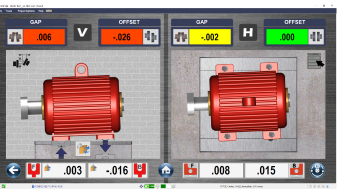 Another exclusive feature, the T-1290 5-Axis Target allows you to simultaneously view a live alignment screen for both the vertical and horizontal planes (4 axes) without having to rotate the shafts. This is critically important on large machine applications where tightening the bolts can create horizontal movement of the machine, causing you to have to redo the alignment.
Add Shims, Perform Moves without Taking Data in Between…
Whether using our high-end
5-axis X-880
or entry-level
3-axis X-660
, aligning the motor has never been easier. Just add the shim and then start moving the motor until the displays turn yellow or green and you are done. With some competing systems, you are required to re-take data after adding shims. What a pain!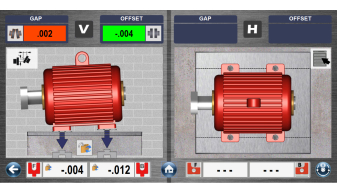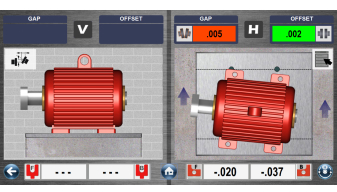 5 Data-Taking Modes and Many Optional Features…
Couple6 offers 5 data-taking modes to meet any challenging application.  Our most popular data-taking feature is Auto Sweep™ which makes data taking easy and fast and by taking reading up to 16 times per second, it is also the most accurate data taking method.  Other Couple6 software features include:

On-Demand Electronic Manual & Videos Eliminate Heavy Paper Manuals…
If you forget how to do something, then you can quickly access our manual right in our Couple6 software by selecting the Help Menu (or hitting F1) and the correct page of the manual will automatically display. Compare that to our competitors' multi-page cheat sheets or 200+-page manuals that you can read while you are at the office or print out to bring with you on the job! With software this easy to use, training is really only required for the more complicated applications.
Printing to Paper, PDF or Windows XPS…
First select whether to print to paper or to a file, either PDF or Windows
®
XPS. Then to print to paper, simply plug your tablet into a printer and print away. To email, attach the PDF or XPS file, add some photos and click Send. It's that easy…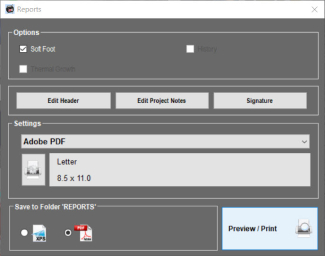 To take an interactive tour of our Couple6 software by click here…Couple6 Interactive Tour