Is that really possible? With competitor systems the answer is typically, "we hope so…", but more often than not it really means that annoying scenario of:
shim & move…
verify….
shim again & move again….
verify again…
cross your fingers that it's finally aligned….
and when it's not, you really want to "test" the ruggedability of the display box! It's like a bad dream! This is certainly NOT "Easy" as our competitors say it is, nor is this problem solved by the famous "German Engineering"! There has to be a better way…
There is! But this time it's American engineering that solves the problem. With our relentless pursuit of accuracy, born out of our vast experience in the machine tool world, we have produced the X Series™ lasers that utilize super-linear PSD technology, and up to a 500-point calibration process, to deliver up to 15-times higher accuracy than our competitors. Even our entry-level laser, the X-660, is 5-times more accurate than most of our competitors high-end systems! Why do we do this? Because accuracy matters! But why?
Correct Shim & Move Calculations the First Time, Every Time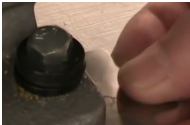 Higher accuracy means you get better repeatability (check out this testing data on a really sloppy coupling) and more accurate alignment results. Better repeatability means you have confidence that our Couple6 software alignment results are correct, and more importantly, the shim and move calculations are also correct. And using the correct shim and move values the first time, means you only need to tighten down those bolts once! So that's why we say: Shim Once, Move Once™!
OK, OK, we know that there are other factors (thin or buckled sole plates, worn out bearings, shot seals, etc.) that can affect the move stage of the alignment.  But why would you buy a system that in good conditions drives you crazy with frustration because you have to do the alignments over and over again? Don't settle for "Easy" or "German Over-Engineered" when you can get the very best alignment system that American engineering has to offer!
Oh and for the record, "easy" to us means you follow a simple 5-step process, with on-demand help text, guiding you right through the alignment, add your shims and do your moves (only once!), then save your data, email your report and close out the ticket, all while standing next to the machine. Now that is "easy" and "das gud", too! logob
So are you ready to take a serious look? If so, why not give us a call and find out why so many rotating equipment techs are switching to the only laser shaft alignment systems that are truly trying to make your life easier!
Shim Once, Move Once™, and then grab a couple cold ones (after hours, of course), the first one is on us!