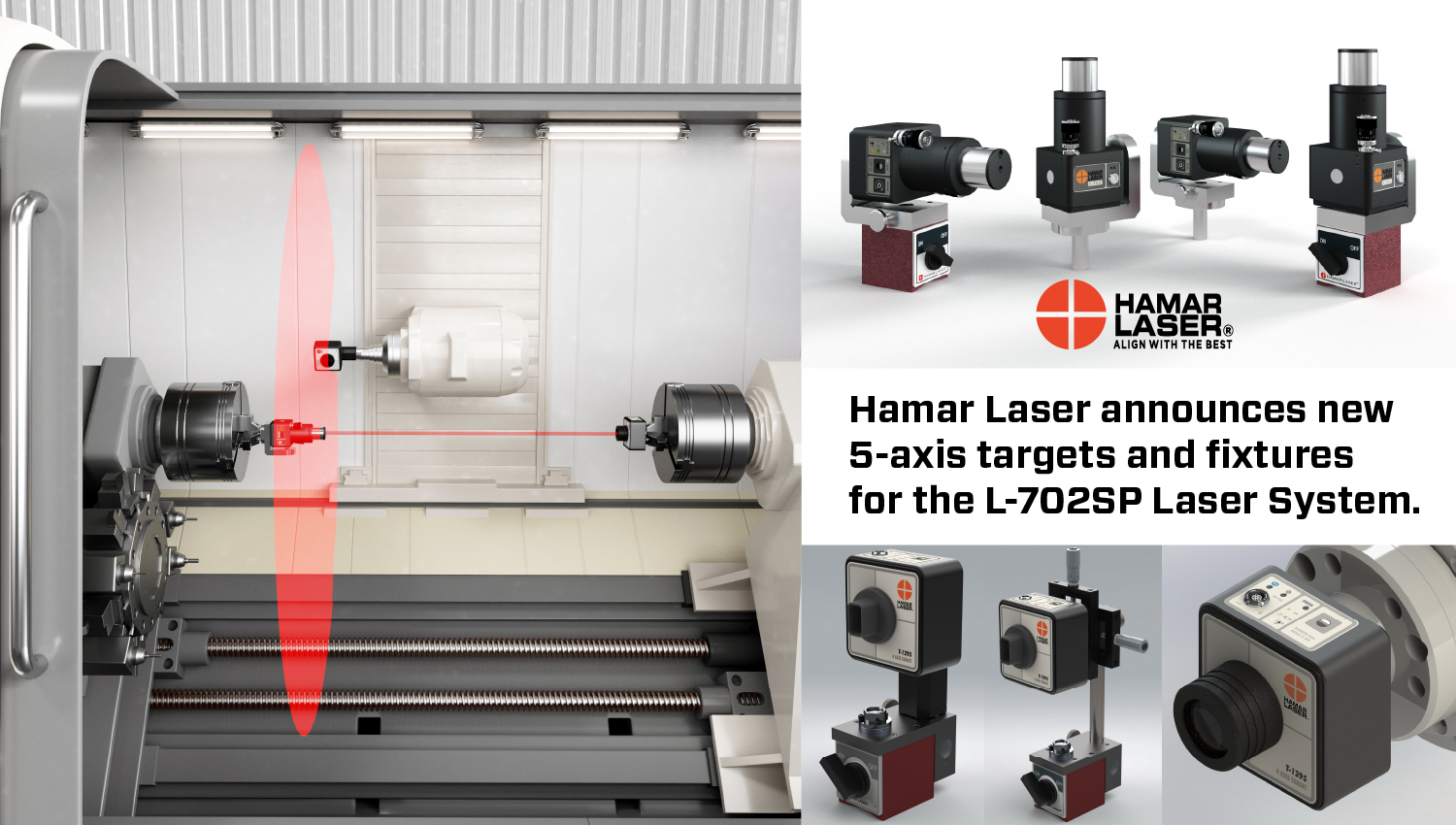 Hamar Laser Introduces New 5-Axis Targets & Fixtures for L-702SP Laser
Unique T-1295 / T-1296 5-Axis Multi-Purpose Target & mounting fixtures transform Hamar Laser's L-702SP into an even more capable & versatile laser alignment system
A single multi-purpose target replaces two targets in the original kit, making the new system more affordable & economical
Compact system excels at aligning smaller machine tools & multiturns
March 7, 2022
Hamar Laser Instruments introduces its unique new T-1295 and T-1296 5-Axis Multi-Purpose Scan & Spindle Targets and a suite of new fixtures that transform its L-702SP 5-Axis Machine Tool & Spindle Alignment System into a more affordable and even more capable and versatile alignment system that excels in a wide variety of applications.
"We have never believed in making a 'one-size-fits-all' laser system, as our competitors typically offer," said Rod Hamar, President of Hamar Laser Instruments. "We found that they are never very good for any application. Instead, we have always strived at making the best laser we can for a specific application or group of applications, which is why our lasers are highly praised. However, when the T-1295 and T-1296 5-Axis Targets were conceived, we quickly realized they can transform our L-702SP into that rare laser that does a great job for a wide variety of applications, from lathes to machining centers and many more, so we are excited to bring it market! Our first 'combo' laser, as we call it."
Hamar Laser's unique new T-1295 and T-1296 Targets offer Bluetooth-wireless communication and are capable of aligning multiple machine axes in three measurement modes: 2-axis center, 2-axis angular and single-axis scanning. Expanding the capabilities of the L-702SP Laser, the T-1295 and T-1296 Targets work with Hamar Laser's new MultiTurn10 Software and are ideal for many applications, including spindle alignments (center and angular); flatness, straightness and squareness of linear axes and guideways on boring mills, gantries, lathes, machining centers, multiturns and VTLs; injection molding machines; and flatness and straightness of surfaces. They are especially useful on hard-to-align multiturn machines. The T-1296 Target is a high-resolution version of the T-1295 Target for taking ultra-accurate straightness and pitch / yaw measurements.
The new fixture suite is comprised of four mounting fixtures made specifically for the L-702SP Laser and T-1295 and T-1296 Targets to aid in measuring hard-to-check axes on enclosed machining centers, boring mills and multiturns; and includes these fixtures:

Powerful and Economical Combination
Hamar Laser's L-702SP Laser combines an auto-sweeping laser scan plane with a laser plumb beam and .50 inch mounting stud to insert into spindles. Capable of operating in both scan and beam modes, a single T-1295 or T-1296 Target now replaces two targets in the original L-702SP kit. With the new target, the L-702SP can align all of the axes on hard-to-align multiturns, while its compact size makes it ideal for smaller, enclosed machines and multiturns.
Paired with the new T-1295 and T-1296 Targets and mounting fixtures, the L-702SP is now a more affordable option for budget-conscious customers like smaller machine shops that need to align different machine types but want the ease of use, extremely high accuracy and superior repeatability only a Hamar system can offer.
"The new T-1295 and T-1296 Targets and mounting fixtures have transformed our L-702SP into a streamlined alignment system that has more functionality than our competitors' systems for the same or lower price," continued Hamar. "It's an economical choice for customers who are tempted by lower priced but much less accurate and capable alignment systems. We think we've made a great tool even better and we're excited about getting these into our customers' hands."
To learn more, visit our website or contact us at +1-203-730-4600 or sales@hamarlaser.com.