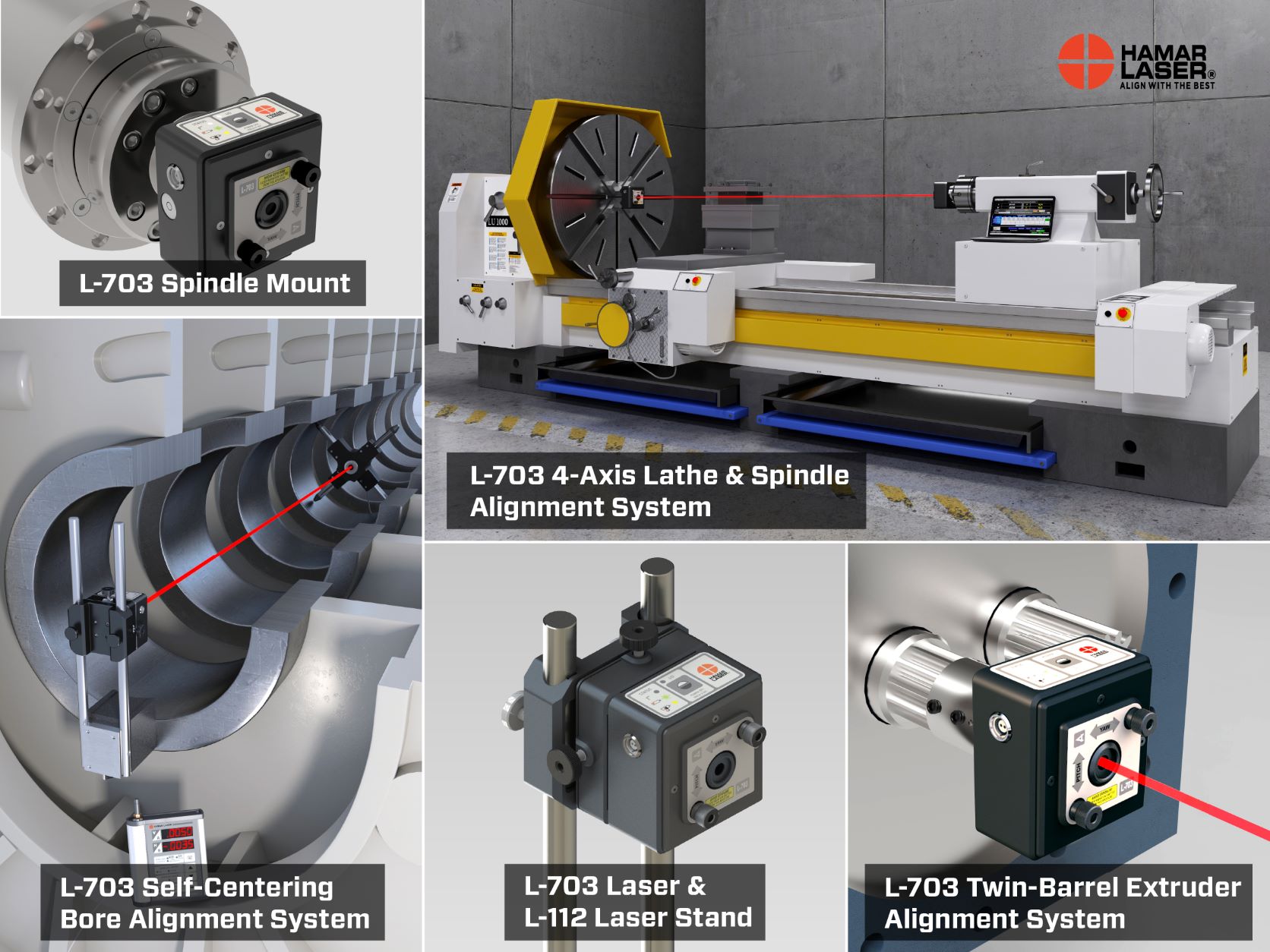 Hamar Laser to Showcase New Laser Alignment Systems at IMTS 2022
L-703–Compact & versatile new L-703 laser systems make aligning bores, lathes and spindles, and twin-barrel extruders easier, faster and more affordable
L-702SP–The L-702SP laser system has been enhanced by unique new, 5-axis, multi-purpose target & mounting fixtures
Hamar Laser will showcase its highly versatile next-generation L-703 Bore & Spindle Alignment Laser System, and its enhanced L-702SP 5-Axis Machine Tool & Spindle Alignment System, at the International Manufacturing Technology Show (IMTS) in September.
"After several rounds of designs to meet our goals of lower cost and more compact form factor, we've been very pleased with how many different applications the new L-703 can meet," said Rod Hamar, President of Hamar Laser Instruments. "We're in the process of rolling out several new L-703 system packages that we're excited to show at IMTS."
"Combining our L-703 and L-702SP lasers with our recently introduced wireless T-1296 Hi-Resolution 5-Axis Multi-Purpose Scan & Spindle Targets has led to an increase in accuracy and performance, while maintaining the ease of use our lasers are known for," said Hamar.
"In today's climate of rising prices," added Hamar, "we're pleased to offer these systems at a lower price-point that should be attractive to shops looking for an affordable, accurate and faster way to check alignments for PMs or after machine crashes."
Hamar Laser's IMTS 2022 Lineup

Multiturn Alignment—Hamar Laser packaged its highly versatile L-702SP 5-Axis Machine Tool & Spindle Alignment System with its new T-1296 Targets to create a compact, streamlined laser alignment system to quickly and accurately align a wide variety of machine tools, from complicated multiturns to lathes and machining centers. In addition to flatness, straightness and squareness, the L-702SP also measures axis pitch and yaw angular errors.
Lathe Alignment—Hamar's new L-703 4-Axis Lathe & Turning-Center Spindle Alignment Laser System is an ultra-accurate laser that streamlines checking and adjusting the alignment of lathes and turning centers. With a range of up to 50 ft. (15 m), the L-703 can check the largest lathes, where traditional methods are hard to use. It can also quickly check spindle alignment of headstocks to tailstocks or sub-spindles in four axes.
Bore Alignment—Hamar Laser's new L-703 Self-Centering Bore Alignment System makes bore alignment easier and up to 75% faster than competing systems. Smaller and lighter than the L-705 it replaces, the L-703 works with Hamar's patented self-centering targets that require only one measurement per bore. Hamar's new L-112 Laser Mounting Stand has a built-in position control to speed up laser setups. Applications include engine blocks, compressor bores, cylinders, shaft bearing bores, stern tubes and many others.
Other New Systems at the Show—Hamar Laser will also exhibit its recently introduced L-703 Twin-Barrel Extruder Alignment System and its rebranded X-SeriesTM of advanced shaft alignment products (formerly Stealth SeriesTM).
Referred to as "North America's greatest machine tool show," IMTS 2022 will be held September 12-17 at McCormick Place in Chicago. Hamar Laser will be exhibiting in the Quality Assurance pavilion in East Building, Level 3, Booth 135427, and is also hosting a Virtual Showroom.
For further information, visit Hamar Laser's website or contact the company at +1-203-730-4600 or sales@hamarlaser.com.