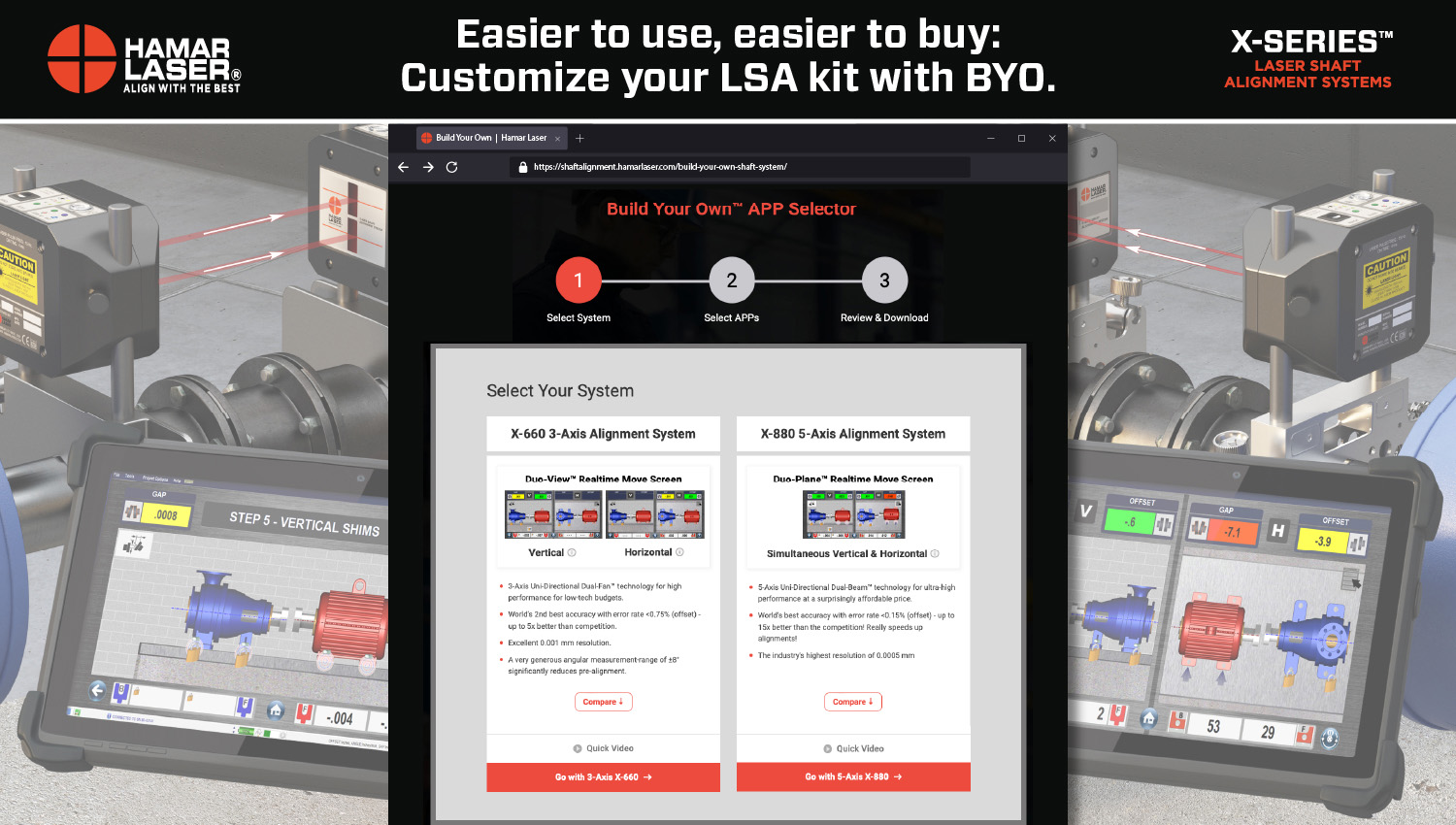 Hamar Laser Introduces "Build Your Own™" for our X-Series™ Shaft Alignment Systems
Our renowned Stealth Series™ line of shaft systems has been rebranded the X-Series™
December 9, 2021
Hamar Laser proudly introduces Build Your Own™ (BYO), a new way of purchasing shaft alignment lasers which gives our customers the ability to customize shaft alignment kits to better fit their needs. We even added some new geometry Apps and fixtures so our customers can use their shaft alignment kits on geometric applications.
We have also re-branded our renowned Stealth™ shaft alignment systems as X-Series™ under the Hamar Laser brand to be consistent with our other geometric alignment products. Of course, all our customers' existing Stealth™ systems will continue to be supported in accordance with our standard policies.
"We strive to make maintaining machinery easier with our products, and with BYO we are making the buying process easier, too, allowing our customers to choose exactly what they want in their kits," said Rod Hamar, President of Hamar Laser Instruments. "The X-Series™ offers unparalleled resolution, accuracy, ease of use and now flexibility. With BYO, our X-Series™ is hands down the best value in the market."
What is Build Your Own™?
Build Your Own™ (BYO) is a unique, convenient way to get a Hamar Laser X-Series™ shaft alignment system custom-built for your needs. Our easy-to-use online Build Your Own™ App Selector lets you quickly select an X-Series™ X-660 or X-880 shaft alignment system from Hamar Laser Instruments and customize it just the way you want. Choose the rugged tablet, hardware accessories and software Apps you want. While the rest of the market makes you choose from a limited number of pre-selected software packages, BYO lets you select just the Apps and hardware you want.
With our Hamar Laser X-Series™ BYO, you get these advantages:
Accuracy: The most accurate shaft alignment system for your investment.
Flexibility: Choose the hardware and software Apps you need to get your jobs done right today; easily upgrade as needed in the future!
New Geo Apps: We have added several geometry data taking apps: flatness, straightness, manual data recording and timed data recording.

Savings: Save money by buying only the hardware and Apps you want.
Convenience: You get an online budgetary estimate fast with our BYO App Selector.
How does BYO work?
Our Build Your Own™ App Selector guides you through the process in three simple steps:
1) Select 1 of our 2 X-Series™ shaft alignment systems: 3-axis X-660 or 5-axis X-880.
2) Choose from among 27 powerful software Apps, and select the tablet and hardware accessories that are right for your needs.
3) Review and download an online budgetary estimate. If desired, request a firm quote.
The Build Your Own™ App Selector will automatically verify your hardware and software selections, and then e-mail you a budgetary estimate.
Our X-Series™ Build Your Own™ App Selector is truly unique. No other laser shaft alignment manufacturer offers this level of convenience and customization!
To learn more, visit our website or contact us at +1-203-730-4600 or sales@hamarlaser.com.